The Top Three Tips for EV Maintenance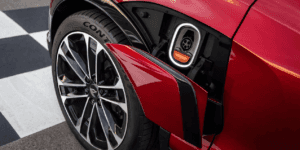 If you're the new owner of an electric vehicle or are looking to purchase one in the near future, it's likely that you have questions about EV maintenance. To assist, our Chevy service center compiled three of the most important tips for maintaining your electric vehicle.
1. Stay Ahead of Wheel and Tire Services
One of the easiest ways to ensure that your EV's performance remains efficient and powerful is to stay ahead of services for your wheels and tires. Wheel balancing, tire rotations, and wheel alignment do more than provide a smooth ride. They also greatly contribute to optimizing energy efficiency, helping your battery life extend as far as possible between charges and across the lifespan of your EV.
2, Update Your Software Regularly
Many behind-the-scenes processes in cars like the Chevy Bolt EV are controlled by an onboard computer. Periodically, Chevrolet will release software updates – just like with your phone – that should be installed as soon as possible.
These updates include everything from new infotainment features to performance and efficiency-improving algorithms. If you aren't sure if your EV has the latest edition of its software installed, visit our service center for a quick checkup.
3. Set a Maintenance Schedule and Stick with It
While electric vehicles feature fewer components than gasoline vehicles, it is important not to fall into complacency regarding your EV. Thus, we recommend scheduling a standing appointment at our service center once every one to two months to inspect your electric truck or car's major systems.
Even if nothing appears to be wrong with your car, these inspections can help to catch small issues before they spiral into costly repairs. It also allows you to drive with confidence knowing that your vehicle is tuned up, topped off, and optimized for reliable efficient performance.
Trust us; your EV will thank you in the long run.
Schedule Your EV Maintenance Service Today
With these helpful services in mind, the next step is to give our service center a call and schedule an appointment for your electric vehicle. Visit us online at LaFontaine Chevrolet Buick GMC of St. Clair to speak with our friendly technicians today.