Levels with LaFontaine: Understanding the 3 Different EV Charging Levels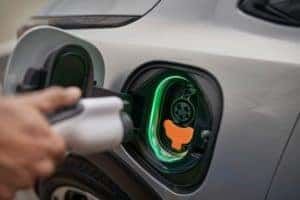 With more electric cars hitting the road every day, we're receiving more questions than ever before about the different levels of EV charging for these next-generation automobiles. To best assist the community around our Chevy dealership in China Township, MI, we assembled this short guide to understanding each of the three levels of charging for electric vehicles.
Level 1 EV Charging
Level 1 charging refers to charging your car with a standard 120V household outlet – the same kind that you plug your cellphone charger or power tools into. While it is the slowest method to charge your electric car, almost all EVs support this method of charging, and the ubiquity of 120V household outlets makes this a supremely convenient method of restoring energy to your car's battery.
Level 2 EV Charging
Step aside, household outlets – Level 2 charging greatly increases the speed and efficiency of charging your car, boasting as much as 25 miles of added range for every hour spent charging thanks to an increased 240V capacity.
These kinds of charging apparatuses are most commonly found in public charging locations such as parking garages or fuel stations, but they can also be installed in your home! To learn more about this installation process, contact our Chevrolet service center to speak with our knowledgeable staff today.
Level 3 EV Charging
The absolute pinnacle of EV charging is Level 3 charging, commonly known as DC fast charging. By circumventing the conversion to alternating current (AC) that is used in Level 1 and 2 charging, Level 3 chargers can get more energy to your battery faster.
At this charging level, your battery can reach an optimal capacity in less than an hour! For standout EVs like the Chevy Bolt, that lets you restore its EPA-estimated 259-mile range in only minutes.
Due to their complexity, DC fast-charging stations are usually only found along major public commuting routes. However, with the ever-increasing popularity of EVs, you should be on the lookout for more fast charging centers coming to our community soon!
Learn More about EV Charging at LaFontaine
Now that you understand the basic differences between the three levels of EV charging, it's time to experience these outstanding EVs in person. Visit us online or in person at LaFontaine Chevrolet Buick GMC St. Clair to learn more about EVs.