How Hybrids, PHEVS, and EVs Differ from One Another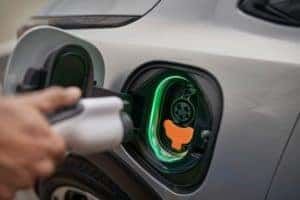 Drivers who are shopping for a new vehicle might think, "I wish I could find Chevrolet dealers near me who'd explain how hybrids, plug-in hybrid electric vehicles, and electric cars differ from each other." If you're curious about how those automobiles differ, you've come to the right place to find out how cars made with Chevy electric differ from their hybrid siblings.
Hybrids
Our team of Michigan Chevrolet dealers can explain to you that hybrid automobiles have hybridized powertrains. The powertrains these cars have include parts you'd find in gas-only automobiles, such as internal combustion engines and fuel tanks. They also include components you'd see in an all-electric vehicle like a battery pack and an electric motor.
Hybrid cars can travel short distances using electricity alone. When their battery packs run low or extra power is needed for things like passing a vehicle on the highway, their engines kick in. Hybrids have regenerative brakes and their electric motors act as generators to keep their battery packs charged up.
PHEVs
Whether you shop with LaFontaine Chevrolet Buick GMC St. Clair online or in-person, you might be curious about PHEVs. Plug-in hybrid electric vehicles are similar to standard hybrids as they have hybridized powertrains, regenerative brakes, and the ability to travel using just electricity. PHEVs differ from hybrids in one significant way, however.
Whereas hybrids rely on their regenerative brakes to supply power for their battery packs exclusively, PHEVs don't. In addition to sourcing power from their brakes, PHEVs rely on an external power source to charge their battery packs, such as a household outlet or public charging station.
EVs
As you look through the latest Chevy models at our China Township, MI Chevrolet dealership, you'll see some all-electric vehicles. Unlike hybrids and PHEVs, EVs don't have many of the parts you'd find in gas-only automobiles, such as an engine, exhaust system, or gas tank. EVs don't need those parts because they only consume electricity.
In general, the battery packs in EVs are larger than the ones you'll find in hybrids and PHEVs. Since their battery packs are larger, EVs can cover more ground between charges. Like PHEVs, drivers charge EVs using an external power source like a DC fast charging station.
Now that you're familiar with the differences between hybrids, PHEVs, and EVs, are you ready to shop for an eco-friendly Chevy model? See how much your trade-in is worth using our secure Value Your Trade tool now. Remember to bring that estimate with you when you visit our Chevy dealership!