Go the Distance: Electric Car Range 101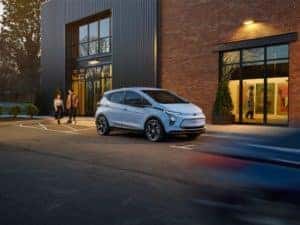 Though EV models improve in both efficiency and power every year, many drivers in our community still have questions about factors that impact electric car range. To assist, our Chevy dealership put together this brief guide to understanding the many things that impact the range of electric vehicles.
Battery Size
The primary contributing factor to EV range is the size of the battery. Battery capacity for electric cars is measured in kilowatt-hours (kWh) where, in general, the higher the kWh rating, the further your car can go before needing to recharge. The new Chevy Bolt EV, for example, features a 65-kWh battery that delivers an impressive EPA-estimated 247-mile range.
While larger batteries deliver more range and power, they can also take longer and cost more to charge.
Motor Array
An often-underappreciated element that contributes to an EV's range is the motor array. This refers to both the number of motors that power your car and their specifications.
These components contribute to an EV's range by efficiently translating the power they draw from the battery into motion. Dual motors with gear ratios, for example, can help large EVs like SUVs and Chevy trucks to haul cargo and improve power consumption at freeway speeds, while single motors with continuously variable gears deliver peppy performance in sedans and other compact vehicles.
Motors are also partly responsible for an EV's regenerative braking, which converts the kinetic energy of your forward movement into electrical energy that can be used to recharge your battery and deliver the most range possible.
Weight Distribution
Finally, the weight distribution of your vehicle will impact its overall range. This includes the construction of your EV as well as the weight of passengers, luggage, and cargo. In general, the heavier the load, the more work your motors must do to move your car, causing an additional drain on your battery.
Give our team of Chevy dealers a call or consult your vehicle's user manual to determine the optimal load capacity of your EV.
Test-Drive an Electric Car at LaFontaine Today
With this newfound knowledge in mind, we encourage you to experience the outstanding range possible with electric cars in our inventory. Visit us online or give us a call at LaFontaine Chevrolet Buick GMC of St. Clair to schedule your appointment soon!